This is an archived article and the information in the article may be outdated. Please look at the time stamp on the story to see when it was last updated.
CAMP PENDLETON, Calif. — Marines and sailors conducted an amphibious assault exercise near San Onofre State Beach Sunday, causing traffic delays in the area, base officials said.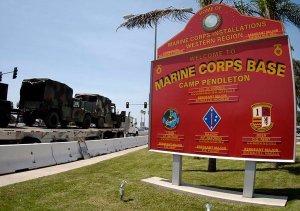 The Marines and sailors of the 13th Marine Expeditionary Unit, Boxer Amphibious Ready Group, simulated assault as part of a three- week multi-national training session dubbed "Exercise Dawn Blitz 2013." It is being conducted in advance of a deployment to the Western Pacific in late summer, according to 1st Lt. Dana Mitchell, public affairs officer for the 13th MEU.
They'll depart from the Navy ships, USS Boxer and USS New Orleans in small boats and amphibious assault vehicles, Mitchell said.
The Marines and sailors be joined by personnel from the Japanese Self- Defense Force, who are scheduled to jump from a helicopter into the ocean then swim to shore at Green Beach, a stretch of coastline also known as Trestles, near the northern portion of the installation, according to Mitchell. Training at Camp Pendleton is set to continue throughout the day.
According to Camp Pendleton's public affairs office, 15 amphibious assault vehicles will be required to exit the beach and drive along Old Highway 101, then cross over Interstate 5 on the Basilone Road overpass to get to inland training areas. They are scheduled to travel the same route in reverse several hours later.
The vehicles will temporarily block parts of Old Highway 101, and Interstate 5's off-ramps to Basilone Road, authorities said.
Area motorists could experience intermittent traffic delays between 6 a.m. and noon, base officials said.