This is an archived article and the information in the article may be outdated. Please look at the time stamp on the story to see when it was last updated.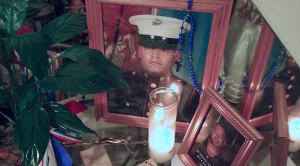 SAN DIEGO — U.S. Secretary of Defense Chuck Hagel announced Friday that he would not reopen Medal of Honor consideration for a Marine Corps non-commissioned officer from San Diego who was killed in Iraq during the Battle of Fallujah.
After "extensively familiarizing himself with the history" of the recommendation of USMC Sgt. Rafael Peralta for the nation's highest military award, Hagel reaffirmed earlier findings that the verifiable facts of the serviceman's death did not meet the requirements of the exalted recognition, according to a Pentagon statement.
"The Department of Defense has taken extraordinary measures to ensure Sgt. Peralta's nomination received full consideration," Hagel said. "Three separate secretaries of defense have now examined the case, and each independently concluded the evidence does not support award of the Medal of Honor."
The secretary stated that he and his department nonetheless remained "forever grateful to Sgt. Peralta for his selfless service to our nation."
Peralta died at age 25 on Nov. 15, 2004.
Former Defense Secretary Leon Panetta cited "considerable medical and professional doubt" over whether the sergeant could have acted to save his fellow squad members by pulling a grenade under his body, as reported by witnesses, since at the time he already was suffering from a serious gunshot wound to the head.
Peralta was recommended for a Navy Cross after a review by an independent panel. His family declined the award, contending that Peralta's combat valor merited the highest honor.
Last fall, the Navy named an Arleigh Burke-class guided-missile destroyer after Peralta during a ceremony at Navy Base San Diego.