This is an archived article and the information in the article may be outdated. Please look at the time stamp on the story to see when it was last updated.
SAN DIEGO — The 62-year-old woman who was struck and killed by a hit-and-run driver in Rancho Bernardo as she walked along a sidewalk with her husband was a UC San Diego professor who had been working on research into an artificial heart, it was reported Sunday.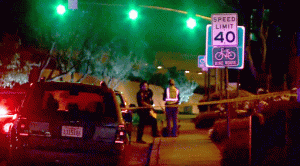 Anouchka Mihaylova, of San Diego, was walking in the 11800 block of Rancho Bernardo Road, near Bernardo Center Drive, at 8:20 p.m. when she was struck by a westbound silver vehicle that jumped the curb and sped off after the crash, according to San Diego police and the county Medical Examiner's Office.
The vehicle that hit her likely would have front-end damage and no passenger side mirror, police said.
The Bulgaria native was a professor in the Department of Bioengineering at UCSD's Jacobs School of Engineering, according to the UCSD website.