This is an archived article and the information in the article may be outdated. Please look at the time stamp on the story to see when it was last updated.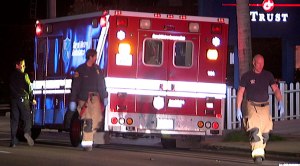 SAN DIEGO — An investigation was underway Tuesday in Southcrest, where an 80-year-old woman was run over and killed by her own minivan after she left the vehicle in drive, police said.
The fatality in the 3600 block of Birch Street was reported at 7:38 p.m. Monday, according to San Diego police Officer Dino Delimitros.
"She left the vehicle in drive and when she stepped in front of the vehicle, it rolled over her and pinned her beneath," he said in a statement. "Some neighbors jacked up the van and got her out from underneath. She died from the injuries suffered at the scene."
The investigation was being handled by SDPD's Traffic Division.