This is an archived article and the information in the article may be outdated. Please look at the time stamp on the story to see when it was last updated.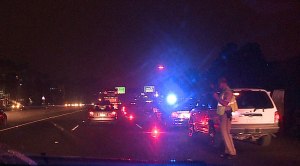 SAN DIEGO — A 45-year-old San Diego woman was hit and killed by a car on Interstate 8 in the Mission Valley area early Friday, the California Highway Patrol reported.
The accident on westbound I-8 east of Taylor Street was reported at 4:43 a.m., according to California Highway Patrol Officer Tommy Doerr. The woman stepped into traffic lanes from the right shoulder and was struck by a 2008 Volkswagen Jetta, he said in a statement.
The driver, a 20-year-old San Diego woman, remained at the scene to be questioned, Doerr said.
"DUI was not a factor for the driver of the Volkswagen," Doerr said. "The sobriety of the pedestrian has not been determined."