This is an archived article and the information in the article may be outdated. Please look at the time stamp on the story to see when it was last updated.
SAN DIEGO – A pedestrian was hospitalized Tuesday evening after being hit by a vehicle in City Heights, police said.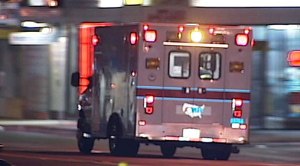 Medics responded to the 4400 block of Orange Avenue around 8 p.m., San Diego police said. They transported the victim to a hospital to be treated for head wounds.
The victim's condition was unknown.
The driver stayed at the scene, according to police.