This is an archived article and the information in the article may be outdated. Please look at the time stamp on the story to see when it was last updated.
SAN DIEGO — A Pearl Harbor survivor's dying wish was made possible thanks to a beloved friend and sailors at Naval Base San Diego.  Bud Cloud wanted to see the Navy and the USS Dewey one last time.  Cloud served on the original Dewey during the attack at Pearl Harbor.
"That's why he was so close to the Dewey," said Cloud's wife of 30 years, Anita.  "It was his home base. You might say his home ship."
His beloved friend Jennie Haskamp helped organize the day for him which happened in late May.  She told him about it while he was in the hospital.
"Bud yells from his bed, 'I want discharge papers. I want to be on hospice! I'm going to see the Navy before I die!'" Haskamp explained.
Bud and Anita Cloud drove from their home in Temecula to Naval Base San Diego.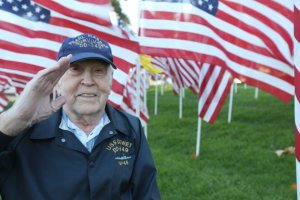 "We thought we were just going to come by, take pictures of the ship and drive on by," said Anita Cloud. "We didn't think anything like this was going to happen."
The sailors aboard the USS Dewey were ready.
"There were about 40 or 50 sailors there just waiting to say hi, just waiting to meet him," said Damage Controlman Chad Simon who was there that day. "(They wanted) to say thank you."
The sailors carried Cloud up to the ship in his wheelchair.
"They honored him with hats, medals, the Captain gave him a special medal," said Anita. "They went up to him one by one and shook his hand."
Cloud shared stories of his time on the original Dewey.
"Just hearing his stories and hearing that connection from our past to where we are now, it was a great thing for not only myself but as well as the crew," said Dion Eisman, Gunner's Mate Chief Petty Officer.
Anita Cloud said her husband couldn't stop talking about the experience in the days to follow.
"He was on hospice at the time and he said, 'I'm ready to go,'" she said. "I could die happy now."
Bud Cloud died 13 days later.
"The sailors on the ship granted him a dying wish," said Jennie Haskamp. "They made a dream come true."
Haskamp recently wrote about the experience and the story has gone viral. Anita Cloud said she is tremendously grateful to those involved in making that special day happen.
"They fulfilled something that he needed, and I hope he helped fulfill something for them because they were wonderful," she said. "They were really wonderful."