This is an archived article and the information in the article may be outdated. Please look at the time stamp on the story to see when it was last updated.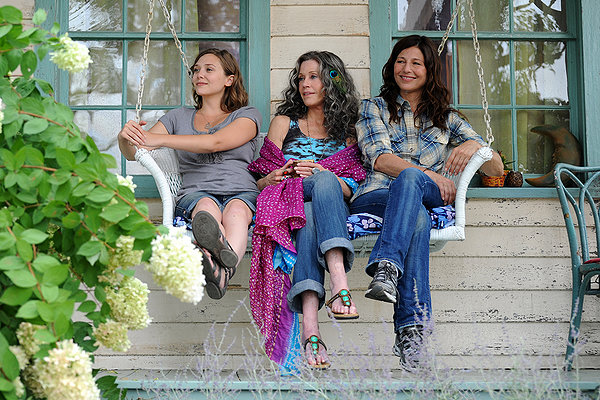 It would've been a better movie if Jane Fonda, who doesn't do a lot of films these days, was cast as a political activist and hippie that wasn't just a caricature. The tie-dye shirts and painting nude portraits of Iggy Pop (that cameo ranks up there with the one we saw of Edward Norton in The Dictator).
I can go down the path of everything wrong with the hippie clichés, and all the romances with the various locals in Woodstock; but you've seen the commercials. You aren't expecting On Golden Pond when you go to see this.
Catherine Keener decides to take her kids up to visit their grandmother, even though she hasn't spoken to her in 20 years. Upon hearing this, I immediately thought the movie would be a lot worse.
And aside from those two Oscar winning and nominated actresses, it was directed by Bruce Beresford. He's been nominated twice; but for every good movie he's done like 'Breaker' Morant, Crimes of the Heart, and Tender Mercies – he's done about 10 bad ones. Those would include Mao's Last Dance from a few years ago, as well as Last Dance, Paradise Road, Double Jeopardy, Her Alibi, A Good Man in Africa, and a movie that only I seem to dislike – Driving Miss Daisy.
I am not sure why Fonda's lifestyle and choices would've caused Keener to not speak to her for two decades. You'd expect Fonda's character to be a lot flakier. Instead, she offers lots of good advice to everyone.
It helps that one of her kids is played by Elizabeth Olsen, who has proven to be a tremendous talent. She falls for a local butcher (Chace Crawford, who is probably better looking then his supermodel mom Cindy Crawford). It doesn't help the relationship that she's a vegetarian.
Jeffrey Dean Morgan, a poor mans Javier Bardem, plays the local furniture maker who woos Keener. Watching him duet with her on the song The Weight, has much more weight since The Band's Levon Helm recently passed away (and lived in the Woodstock area).
Much smaller roles are given to Kyle MacLachlan and Rosanna Arquette.
And just like the hippie grandmother role is cliché filled, so is the one of the young man (Nat Wolff) who is awkward around a girl that obviously likes him. He's filming everything, and makes a touching film we end up seeing called "Love in Woodstock." You gotta love that he's quick to correct people that call him Spielberg, with "I'm more of a Herzog."
It was painful to watch Fonda protest a war. You'd think she'd refuse to do a scene like that when she's tried so hard to shed that Hanoi Jane image many veterans have of her.
As bad as some of the scenes in this were, I didn't feel like I wasted an hour and a half of my life watching it. Even thinking about the women around a camp fire doing a bizarre poetry slam about the moon, followed by howls, cracks me up.
I just don't want to see another movie that involves communes for the rest of the year.
This gets 2 ½ stars out of 5.