This is an archived article and the information in the article may be outdated. Please look at the time stamp on the story to see when it was last updated.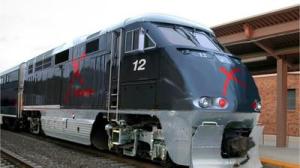 Travelers headed to Las Vegas for some weekend fun may soon be able to begin their debauchery five hours earlier, if a proposed passenger train line between Southern California and Sin City materializes as planned next year.
Las Vegas Railway Express Inc. hammered out a conditional agreement last week with Union Pacific Railroad to use a rail line currently limited to freight trains to shuttle passengers in high style from the Los Angeles Basin to the Strip, the company said.
The deal gives LVRE access to a route between Las Vegas and Daggett, an unincorporated town in San Bernardino County. But the company plans to have its X Train, which is set to begin service in late 2013, launch its trips from Fullerton.
The so-called "party on wheels," which would leave Southern California on Thursdays and Fridays with more than a dozen cars and return from downtown Vegas on Sundays and Mondays, has been in the works since 2009. Regular passenger rail service between the two areas has been nonexistent for 13 years, according to the company.
The corridor is often clogged for motor vehicle travelers, with traffic expected to double by 2020 to 126,000 vehicles a day on Interstate 15 just south of Vegas, up from 60,000 now, according to LVRE.
The company said its trains will make the same trip in less than five hours. Earlier this month, Greyhound launched a direct, five-hour bus line between Los Angeles and Las Vegas.
For its rail service, LVRE envisions first-class accommodations, including chef-prepared meals, tables with flat screen televisions, live performances, customer service from so-called "conductresses" and sports lounges. Private cars can host business meetings, bachelor and bachelorette parties and more.
Some 4 million people a year could use a conventional rail passenger train, the company said, citing a study by the Regional Transportation Commission of Southern Nevada. With additional revenues from serving as a concierge to travelers – helping to book hotel rooms, spa appointments, dinner reservations and show tickets – LVRE believes its business could be worth $500 million a year.
The company said some 1,000 workers will be needed to fill roles in management, service, technical support and more. It anticipates spending $10 million building the arrival depot in Las Vegas. More than 2 million guests will travel via the X Train each year, according to LVRE.
The travel price is currently set at $99.
By Tiffany Hsu, Los Angeles Times