This is an archived article and the information in the article may be outdated. Please look at the time stamp on the story to see when it was last updated.
SAN DIEGO –The city school board Tuesday listened to angry parents of students who were punished for taking part in a racy dance video, but board members let the disciplinary measures stand.
After meeting for more than two hours in closed session, board President John Lee Evans released a statement backing the suspensions of more than 30 students at Scripps Ranch High School. Board members also chose not to remove the charge of sexual harassment placed in student records.
"It is not the purview of the board, according to the California Education Code, to overturn any suspensions, only expulsions," Evans said in the statement. He also said that questions about the loss of senior privileges by students involved in the video had already been resolved at the school level.
The two-minute video received national attention after it was posted on the Internet.  It shows dozens of female students shaking and gyrating their hips — dance move known a "twerking."
After the Scripps Ranch High principal saw the video, 33 students were immediately suspended for two days.  Seniors involved were told that they might not be able to attend graduation or the senior prom, but the principal has since said they will be able to attend those functions.
Parents who spoke before the board met in closed session pleaded with the board to overturn the suspensions and sexual harassment charges.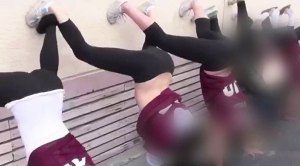 "It has created devastating ramifications in our family," one parent told the school board.
"My daughter has a 4.6 (grade point average) this quarter. It's ridiculous. She's never had any offenses," said another.
Each parent had 3 minutes to address the school board.
Ruth Hargrove, attorney for one of the students, said many of the girls in the video had no idea they were breaking school rules.
"My client thought that she was helping with a school project," said Hargrove.
Other parents defended their children's motives.
"It's my understanding the children were doing a clip for a dance that would go into a school video," said one parent.
"They had no idea this video was being produced the way it came out, and they're horrified and humiliated," said another parent.
Parents argued that appearing in the video was not a crime and the charge of sexual harassment would ruin their children's educational careers.
"Sexual harassment is an incredibly severe charge to have on one's record and be following one to college," argued Hargrove.
"Anybody who is looking at her college application is going to think she's some stalker girl," said one parent through tears.
Parents told the school board the students in video never got a chance to explain their actions.
"I'd like to see the kids actually get to explain what their intent was," said one parent.
"This is so inappropriate. It's ridiculous. I'm so disappointed for not following due process," said another. "Look at them.  Look them in the eye and tell them they deserve a sexual harassment charge."
Board members could not discuss the details of individual cases due to privacy laws, Evans said. There is an appeals process for each student to challenge information in his or her student record, and the parents and students had been informed of the processes and procedures, according to Evans.