This is an archived article and the information in the article may be outdated. Please look at the time stamp on the story to see when it was last updated.
ESCONDIDO, Calif. – The parents of a 14-year-old Escondido boy spoke Thursday about how alleged predator Tony McLeod targeted their son through an online game.
Escondido Police said McLeod initially contacted the teen through a Playstation game and their contact escalated to explicit text messages. The child's parents said they found those text messages when doing a regular check of his phone.
"We feel we did what was possible," said the victim's father. "Taking immediate action and contacting the authorities upon finding out explicit details, texts and conversations."
While that investigation was ongoing, the parents said they removed their son's access to the internet and restricted his cell phone use. Despite precautions, investigators said McLeod was able to travel to Escondido Monday and take the child with him to Los Angeles International Airport.
"There is indication that there was planning involved and that they had communicated beforehand," said Det. Damian Jackson. "That the meeting was going to take place at a specific location. Outside of that I don't think it's prudent at this point to give any more details as far as that communication."
When the teen did not return home from school Monday, his parents contacted police.
"The second I got the phone call that he was gone," said the victim's mother. "I knew he was gone and I knew who had him."
Police said McLeod had disconnected his old phone, but they were able to track his new one.
They said they discovered the two h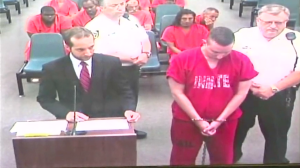 ad boarded a plane headed for Tampa, where McLeod resides. Investigators said the airplane manifesto listed a "Justin McLeod" with the same date of birth as the victim.
They are still trying to determine how the teen was able to board the plane under a false name.
"That's something we want to look into much deeper," said Det. Jackson. "As far as what transpired at the actual terminal for him to be able to board a plane with this person."
Authorities in Tampa met the plane when it landed. Late Tuesday night, McLeod was booked into a Hillsborough County jail in Tampa.
He is already facing numerous charges in Florida and Thursday Escondido police announced charges of their own.
The San Diego County District Attorney's Office filed charges against McLeod, including child abduction, meeting with a minor to commit a sex offense, online enticement of a minor, contact with a minor to commit a felony and to entice a minor to produce child pornography.
McLeod is being held in Tampa on no bond.
Escondido investigators said they will begin putting their case together to decide where he will stand trial.
"To be frank, we have all the time in the world. He is not going anywhere. He's in custody," said Escondido police Lt. Neal Griffin. "If he gets out of custody in Florida, he's going to be brought to California and $1 million bail will be hanging over his head."
The victim's parents said they hope McLeod gets life in prison.
"I want him to know that he really messed with the wrong family," said the victim's mother. "I was not gonna let this go. This was not gonna be a simple 'do not contact my child.' It was going to be handled through law enforcement."
Police said this family did "everything right" by monitoring their child's internet use and still fell victim to this crime.
Now, the parents want to warn other families about the dangers of child predators through online gaming systems.
"We didn't hear anything inappropriate going through and we could hear him talking," said the victim's mother. "We could hear his side of the talking, but not the other side. I would not allow it. It's too much and you don't know who's on there."
Police are still trying to determine whether there are any other victims, but said there is no indication of that currently.