This is an archived article and the information in the article may be outdated. Please look at the time stamp on the story to see when it was last updated.
SAN DIEGO – Some parents with kids in the San Diego Unified School District said sexual abuse and negligent acts are going unreported at their schools.
One woman, whose 5-year-old son is enrolled at Doyle Elementary School, expressed frustration over alleged negligence and lack of action by school administrators.
"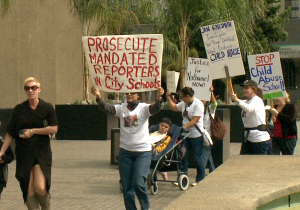 He told me his body had been sexually touched at school by another student," said the woman.  "Basically, I was told that it was a learning experience for both children."
Christine Pinkham claimed her son Nathaniel, a special education student at Mission Bay High School, suffered an incident involving his feeding machine.
"There is a pattern of things that are happening. His machine went from 100 which is the prescribed amount to 400 and nobody could answer why it happened," said Pinkham. "He ended up at the hospital," Pinkham said.
These parents told Fox5 the schools' mandated reporters in charge with presenting cases of abuse to authorities aren't doing their job.
They said they worry many other parents are being left in the dark about what may be happening to their children at school.
"I know this is happening to other kids," said one parent.
On Monday, the concerned parents delivered documentation to the city attorney's office and asked for help.
"It's the first we've seen of it," said Assistant City Attorney Paul Cooper "We'll make sure the police department receives it so they can review it."
"This is obviously sad. These parents are quite distraught we sympathize with them," Cooper said.
Fox5 reached out to SDUSD officials for comment, but they were not available for this broadcast.