This is an archived article and the information in the article may be outdated. Please look at the time stamp on the story to see when it was last updated.
EL CAJON, Calif. – The parents of a 4-month-old baby, who died after allegedly being left inside a parked car at an El Cajon apartment complex overnight, were arrested, authorities announced Sunday.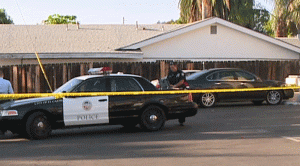 The child did not respond to paramedics' rescue efforts and was taken to a hospital, where the baby died, police said. Its gender and name were not released, and police would not confirm a newspaper report that the infant was a boy.
According to police, the parents left the baby in their car overnight after returning from shopping on Friday. The infant was discovered in the vehicle by family members shortly before calling the police at approximately 1:30 p.m. on Saturday.

Both parents were arrested and later booked into the county jail. The father, 30-year-old Israel Soto, was charged with willful cruelty to a child with injury or death.
The 23-year-old mother, Jessica Quezada, was charged with willful cruelty to a child with injury or death and charged with possession of a control substance.
Child protective services took the couple's three other children, ages 1 to 3-years-old, into custody.
San Diego County Medical Examiner Office has yet to determine the exact cause of death of the infant at this time. The incident remains under investigation.

Anyone with information regarding this investigation should contact the El Cajon Police Department at 619-579-3311 or to remain anonymous call Crime Stoppers at 888-580-8477.