This is an archived article and the information in the article may be outdated. Please look at the time stamp on the story to see when it was last updated.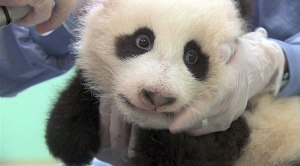 SAN DIEGO — The giant panda cub at the San Diego Zoo will go on public display for the first time Thursday, the zoo announced Monday.
Xiao Liwu was born July 29, and since then has been visible to the public only via the zoo's Panda Cam and on occasional videos produced during his veterinary exams.
The name of the cub, the sixth offspring of Bai Yun, translates in English to "Little Gift."
Xiao Liwu has only recently started going outside, accompanied by his mother. An outdoor area he has been exploring will be opened for public viewing from 9:30 to 11:30 a.m. daily beginning Thursday, according to the zoo.
Zoo officials warned that Bai Yun determines his visibility and viewing opportunities may be short or intermittent.
The giant pandas at the zoo are on loan from the Chinese government, which has the option of calling the black-and-white bears back to their native country after they reach age 3. Only the newest cub and Yun Zi, who turned 3 in August, remain at the San Diego Zoo among Bai Yun's six offspring.
The local zoo is one of four in the U.S. that participate in the loan program. For a hefty fee to China, the zoos get to study the critically endangered species up close and help with breeding. At the same time, the pandas make for highly popular attractions.
Only around 1,600 pandas are believed to be left in the wild in China, in part because of deforestation and the expansion of farming. The bamboo- eating panda has lost much of its forest habitat in the mountainous areas of southwest China to roads and railroads, according to the nonprofit World Wildlife Fund.