This is an archived article and the information in the article may be outdated. Please look at the time stamp on the story to see when it was last updated.
SAN DIEGO — Authorities asked the public Wednesday for help in identifying a pair of crooks who stole a woman's identity and used it to charge about $35,000 worth of merchandise at various San Diego-area stores.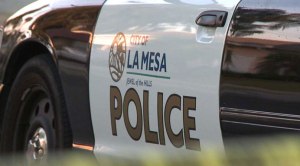 The thieves opened 10 fraudulent credit-card accounts in the victim's name last month and used them to fund their illicit buying spree at clothing, jewelry and home-furnishing retail outlets across the county, said La Mesa police Lt. Matt Nicholass.
The bandits are described as a roughly 5-foot-5-inch, 230-pound black woman with straight, shoulder-length hair and a tattoo on the left side of her chest; and a 5-foot-9-inch, 215-pound black man with a ponytail, Nicholass said.
The pair is believed to be traveling in a green 1999 Mercedes-Benz ML320 SUV, California license number 5VPH808.
Anyone with information about the case was asked to call San Diego County Crime Stoppers at (888) 580-8477 or contact the agency online at sdcrimestoppers.com. Tipsters may remain anonymous and could be eligible for a reward of up to $1,000.