This is an archived article and the information in the article may be outdated. Please look at the time stamp on the story to see when it was last updated.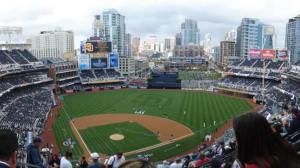 SAN DIEGO – The San Diego Padres will honor actor Gary Sinise during pre-game ceremonies for his efforts on behalf of veterans.
The 1:10 p.m. interleague game against the Detroit Tigers will serve as "Military Opening Day" for the Padres, who traditionally host Navy and Marine personnel at Petco Park on Sundays. The players wear camouflage uniforms during Sunday home games.
Sinise's foundation announced it will build homes in the San Diego area for wounded veterans Nick Kimmel and Jason Ross, who will accompany the actor to the game.
The homes, built through a partnership between the Gary Sinise Foundation and Operation All the Way Home, are customized to ease the veterans'
daily challenges with features like retractable cook tops, cabinets and shelving, elevators and more — accessible via an iPad.
Marine combat engineer Rob Jones, a double-amputee, will throw the ceremonial first pitch. Jones, who lost his legs above the knees in an
explosion in Afghanistan, used prostheses to ride a bicycle across the country to raise funds for wounded warriors.
Jones will enter the field on his bicycle and ride around the warning track before throwing the first pitch, a team official said.
The pre-game ceremonies will also include an on-field recognition of more than 200 service members representing all branches of the armed services,
who will line the base paths. A 50-state flag team from Marine Corps Recruit Depot will also take the field.
Navy Band Southwest will perform the national anthem and Marine Staff Sgt. Brent Williams will sing "God Bless America" during the seventh inning
stretch.