This is an archived article and the information in the article may be outdated. Please look at the time stamp on the story to see when it was last updated.
SAN DIEGO — An overturned tractor-trailer blocked all of the northbound lanes on Interstate 15 this morning. It happened at the Rancho Bernardo Road overpass in Rancho Bernardo. Helen Belkin, who was late for work after being stuck in traffic for almost an hour, told Fox 5 it was so frustrating "she was ready to kill somebody." Belkin was finally diverted off the freeway and around the accident.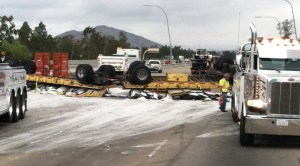 The driver of the truck, which was carrying more than two tons of industrial salt used in water filtration systems, was injured and taken to Palomar Hospital. HIs condition is unknown, but his injuries were not considered life threatening. It would take almost four hours to clean and/or pick up the spilled salt and haul away the overturned truck. By 2:30 p.m., traffic was back to normal.
Jake Sanchez of the California Highway Patrol said a van merging onto the freeway apparently lost control and crashed into the truck. While the investigation isn't complete, Sanchez said it appears the rain played a role in the accident.
Officer Sanchez also said it's time for people to inspect windshield wipers and tires as we enter the rainy season.