This is an archived article and the information in the article may be outdated. Please look at the time stamp on the story to see when it was last updated.
SAN DIEGO — A crane operator was badly injured and trapped Monday when the crane overturned while hoisting a large steel container at a Scripps Institution of Oceanography dock in Point Loma.
The accident was reported at 1:45 p.m. at the institution's Nimitz Marine Facility at 297 Rosecrans Street.
More than a dozen firefighters worked for more than an hour to free the man from the operator's cab. At about 2:50 p.m., rescuers finally managed to extricate the man. He was loaded into an ambulance and driven to a field where a helicopter ambulance was waiting to rush him to a local hospital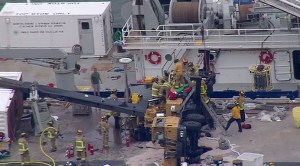 The crane was either loading or unloading the container from the R/V New Horizon, which was tied up next to it. The New Horizon is one of the institutions research vessels.