This is an archived article and the information in the article may be outdated. Please look at the time stamp on the story to see when it was last updated.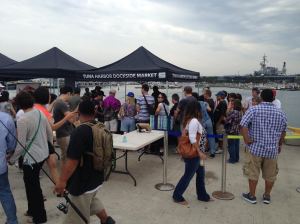 SAN DIEGO – Freshly caught seafood will be on many San Diegans' menus with the launch of an open-air seafood market near Seaport Village.
Creation of the market, in which boats will bring their wares to Fish Harbor Pier on Saturday mornings, was a joint effort between the county of San Diego, Port of San Diego and the local commercial fishing industry.
Earlier this week, the county Board of Supervisors directed staff to look for ways to help promote the market. Supervisor Greg Cox said fish is part of a healthy diet, which dovetails with the county's "Live Well San Diego"
initiative.
"Some of us may recall — at least a couple of people on the board here– the tuna boats that used to dock right outside the County Administration Building," Cox said. "There's no reason why we can't have a thriving commercial fishing industry here again in San Diego."
The market will opened to the public at 8 a.m., following a ceremony featuring Cox and port Chairman Bob Nelson. The market will remain open until 1p.m.