This is an archived article and the information in the article may be outdated. Please look at the time stamp on the story to see when it was last updated.
SAN DIEGO –  Torrey Pines High School was locked down Thursday morning after a threatening message was received by school officials.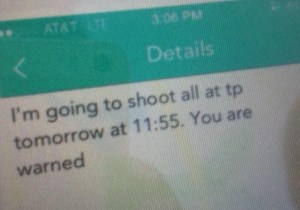 The precautionary security measure went into effect at the school in the 3700 block of Del Mar Heights Road about 10:30 a.m., after a man reported receiving a text message about the threat from his son, a student who'd heard about it from a classmate, according to San Diego police.
"TPHS is currently in a lockdown situation. We have an anonymous threat against the school," was included in the text message sent to parents at 10:36 a.m.
A minute later, an email was sent to parents with more details:
"We received an anonymous threat to school posted on Yik Yak.  We have initiated lockdown procedures and are working directly with law enforcement at this time.  This is a precautionary lockdown.  As we need law enforcement to have open access to the campus we request you do not drive to campus until you are notified to do so.  We will be posting updates on the school website.  Again, this is precautionary."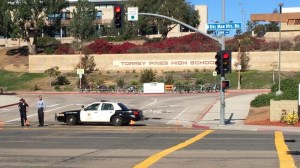 Teachers kept students secured in their classrooms while officers went through the campus.
No hazards or suspects had been identified as of shortly after 1 p.m., SDPD public-affairs Officer Humberto Hernandez said.
About two dozens students were seen leaving the school building just before 1 p.m.  Several parents were showing up to check on their children, despite authorities asking them to avoid the area.
Yik Yak is a social media app that allows users to anonymously create and view posts within a 1.5 mile radius.
Fox 5 has crews headed to the school and will update this story has information becomes available.
RELATED STORIES: