This is an archived article and the information in the article may be outdated. Please look at the time stamp on the story to see when it was last updated.
SAN DIEGO – A San Diego State University student has overcome all odds to become the top leader on campus.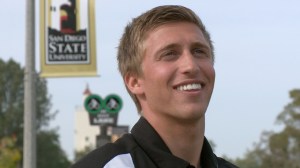 Josh Morse was recently elected as the new SDSU student body president, but given his past the accomplishment might seem unlikely.
Morse had a difficult childhood: an absent father, mother with addiction problems and even homelessness. Eventually it became too much.
"There was a point that my mom could not provide for me," said Morse. "I could provide better for myself. So I took it upon myself at age 11 to pack my bag up and I left."
Morse couch-surfed with friends and other family members for about a year, but no matter where he was staying one thing never changed.
"Every day I was at school," said Morse. "I did well. I excelled. I got good grades and that really set me up for the success I have today."
His life changed drastically when he came across the Klien family from Ocean Beach. They knew very little about him, but saw his need and offered him a place to stay for the weekend.
"They said 'I know you're jumping around,'" said Morse. "You can stay with us for the weekend. I'm proud to say, and so blessed to say, that weekend turned into seven years this past October."
With a loving household, Morse grew into the leader he is today. He became student body president for Point Loma High School and captain of the surf club.
Those leadership skills continued into college. At SDSU, he is a fraternity brother for Sigma Phi Epsilon and the captain of the surf club. He's also involved in numerous other student organizations including Aztec PRIDE, SDSU philanthropic organization that supports the community.
Always humble, he attributes his success to others.
"I found that leadership was kind of a big thing for me," said Morse. "That I really liked giving back, because I was so appreciative of the things that I was given and the people who helped me along the way."
Now his goal is to use what he's learned to help others with similar challenges.
"That experience has really developed me as a leader, effective communicator and someone that's built that compassion for helping students," said Morse. "I know firsthand that without someone to help you along the way that there's no way you can possibly reach your maximum potential."
Morse is majoring in finance and is also enrolled in the pre-law program at UCLA. Once he graduates, he will begin working on his Masters in public policy at UCLA.