This is an archived article and the information in the article may be outdated. Please look at the time stamp on the story to see when it was last updated.
NATIONAL CITY, Calif. — Ray Chavez, who at 103 years old is touted as the oldest living survivor of the Japanese attack on Pearl Harbor nearly 74 years ago, was honored at a Memorial Day service Monday.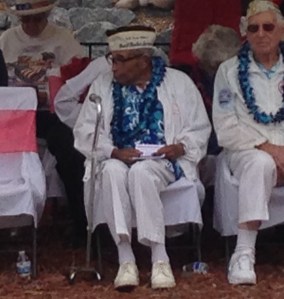 According to the San Diego Union-Tribune, Chavez was serving aboard the minesweeper USS Condor early on the morning of Dec. 7, 1941, when sailors spotted a periscope from a midget submarine.
"We were going to make a turn to the north and we almost ran into the submarine that was trying to get into the harbor," said Chavez.
The sub was attacked and blown up by the destroyer USS Ward.
Chavez said he finally went home at 6AM, he said he just put his head on the pillow when his wife came in.
"It seemed like I only slept for about 5 minutes when she came in and told me 'we're being attacked'," said Chavez.
He said he didn't believe her at first.
"She finally talked me into getting up and going to look," said Chavez.
By the time Japanese aircraft began the attack that launched the U.S. into World War II, Chavez was home in Ewa Beach, according to the newspaper, which profiled him in March for using an exercise program to restore his health after a fall. He served on transports during the war.
Chavez attended a 1 p.m. ceremony at the La Vista Memorial Park. Three other Pearl Harbor survivors also spoke.
"Pearl Harbor survivors share stories from the heart — Memorial Day is about remembering, and we are honored to welcome these living legends," said Luisa McCarthy, general manager of La Vista.
Download Fox 5 iPhone app  |  Download Fox 5 Android app