This is an archived article and the information in the article may be outdated. Please look at the time stamp on the story to see when it was last updated.
SAN DIEGO — The San Diego Central Library has closed for good to make room for a much larger facility several blocks away.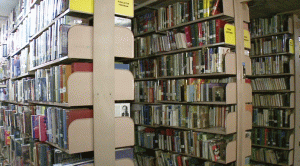 The building at 820 E St. opened as the city's main library in 1954.
For many who made one last visit Sunday, it was hard to say goodbye.
"It's grown roots in the community. Everybody comes down here – knows this place," said Chris Rogers, a frequent visitor and one-time library employee.
Library Department Director Deborah Barrow said Friday she visited the downtown library years ago as a high school student.
"Being able to come here and study with others was extremely important," Barrow said.
However, a bigger facility has been needed for a long time, she said.
Margaret Kazmer, a former deputy library director, said she started working on planning for a new Central Library in 1983.
Grand opening for the new nine-story, $185 million facility, near Petco Park, is scheduled for Sept. 28.
"We know that the striking architecture of the new library will transform our skyline, but it will also transform the way San Diegans research, the way they learn, and read for our future," Rep. Susan Davis, D-San Diego, said at an event Friday. "Despite all that's happening with our technology, libraries still remain essential."
Davis, who said her son used to work at the Central Library, spoke to a gathering of about 100 library patrons and former employees who paid tribute to the current site.
Barrow said employees will begin packing up books and offices this week, and hope to move into the new building in about two weeks.
The library director said the larger facility will allow them to display numerous books and collections that the current building doesn't have room for — including what they believe is the second largest collection of baseball memorabilia in the U.S.
"I think that's the part that's been most difficult — the fact we haven't had it all accessible for people. Once they're in the new library, they'll know about the collection, experience the collection first hand," said Marion Moss Hubbard, a public information officer for the library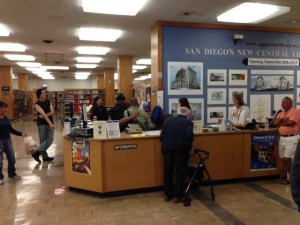 .