This is an archived article and the information in the article may be outdated. Please look at the time stamp on the story to see when it was last updated.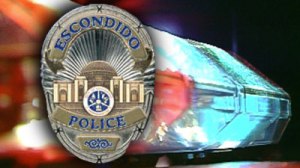 ESCONDIDO — Five San Diego police officers involved in the fatal shooting of a suspect who allegedly pointed a homemade shotgun at them in Escondido were on full duty Thursday. Sgt. Marc Pitucci, Detective Arturo Lovio, Detective Nestor Hernandez, Officer Jonathan DeGuzman, and Officer Zackary Pfannenstiel were identified Wednesday by Escondido police. According to Escondido police Lt. Neal Griffin, all five officers fired their service weapons at William Mayes, 38, the evening of June 5.
"Officers of the San Diego Police Department were in the city of Escondido, attempting to arrest (Mayes), a suspect in a felony elder abuse case who was suspected to be in possession of dangerous devices," Griffin said in a statement. "As the officers approached the vehicle, Mayes leveled a firearm towards them."
Mayes, who was suspected of abusing his father, was struck several times by the gunfire and died at the scene. No one else was injured.  All involved officers have returned to full duty, Griffin said.
Pitucci is a 25-year department veteran, Lovio is a 24-year veteran, and Hernandez is a 10-year veteran. All three are assigned to an SDPD robbery team. DeGuzman, a 13-year veteran, and Pfannenstiel, a 5 1/2-year veteran, are each assigned to a gang suppression unit.
The San Diego Metro Arson Strike Team searched Mayes' body and SUV after the shooting and found four homemade guns, seven pipe bombs and other small makeshift explosive devices, San Diego police said. It was unclear why Mayes, who had an arson conviction on his criminal record, assembled the arsenal and was driving around with it.
The confrontation between Mayes and San Diego police occurred in Escondido after officers followed Mayes from Interstate 15 into the North County city, which borders San Diego.