This is an archived article and the information in the article may be outdated. Please look at the time stamp on the story to see when it was last updated.
SAN DIEGO – A driver passed out on a San Diego freeway early Friday and an officer had to smash a window to get inside and stop the vehicle, which was slowly rolling down the roadway, authorities said.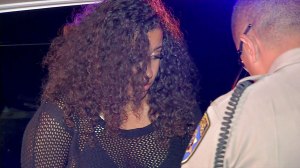 California Highway Patrol officers found the unconscious driver on northbound Interstate 805 near Clairemont Mesa Boulevard shortly before 1 a.m. The car was at a standstill in the slow lane of the freeway.
An officer woke the woman by tapping on her window, but the car began rolling down the freeway. The woman, who appeared to be highly intoxicated, was unable to stop the car, so the officer ran alongside and smashed the passenger-side window with his flashlight. He was able to stop the car and get the woman out.
Officers said they found a partially-full bottle of liquor in the car.
Amber Dlaine McKinney Morgan, 25,  was arrested on suspicion of driving under the influence of alcohol. Jail records show that she was was booked into the Las Colinas Women's Detention Facility shortly after 3 a.m. Bail was set at $2,500 bail, the CHP said.
Download Fox 5 iPhone app  |  Download Fox 5 Android app