This is an archived article and the information in the article may be outdated. Please look at the time stamp on the story to see when it was last updated.
EL CAJON, Calif. — One of the El Cajon police officers involved in the confrontation that killed 38-year-old Alfred Olango was Richard Gonsalves, El Cajon Mayor Bill Wells confirmed in a news conference Wednesday afternoon.
A source told FOX 5 that Gonsalves was the officer who fired the fatal gunshot.
Both officers were 21-year veterans of the El Cajon Police Department, the mayor said.
El Cajon police have not released details about the officers.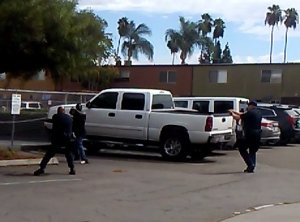 Gonsalves was involved in a high-profile sexual harassment lawsuit that was brought against him and the city in March of last year.
An investigation found that Gonsalves had sent inappropriate sexual texts to female colleagues as well as photos of his genitals. That discovery ended with a settlement with the fellow officer and resulted in a demotion from sergeant to officer.
The events that led to Tuesday's shooting began when officers were dispatched to investigate a report of a pedestrian behaving erratically and walking in traffic in a downtown district just east of Parkway Plaza mall. They contacted the man, later identified as Olango, behind a restaurant in the 700 block of Broadway, police Capt. Frank LaHaye said.
Police officials stated Olango repeatedly refused to remove one of his hands from a pants pocket, assumed "what appeared to be a shooting stance," produced some type of object – later determined to be a "vape smoking device" — and pointed it toward one of the officers.
Moments later, one of the officers shot Olango with an electric stun gun, and the other opened fire with his service gun. Witnesses reported hearing about five gunshots.
Medics took the gravely wounded man to a hospital, where he was pronounced dead.
ECPD Chief Jeff Davis said the officers involved in the shooting were placed on administrative leave for at least three days, as per protocol.
Davis also promised a thorough and transparent multi-agency investigation.