This is an archived article and the information in the article may be outdated. Please look at the time stamp on the story to see when it was last updated.
NATIONAL CITY, Calif. — A police officer was injured early Monday when his patrol car spun out while he was chasing a suspected car thief.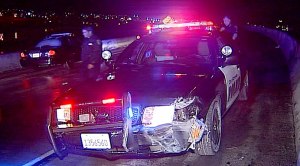 The pursuit began just before 2 a.m. in Coronado after a patrol officer checked the license plate on a car and learned that it had been stolen. The officer called for backup and tried to pull the car over at the toll plaza of the San Diego-Coronado Bay Bridge. Instead of stopping, the driver sped off across the bridge.
Coronado police followed the speeding car south on Interstate 5. The driver lost control on the transition ramp to state Route 54 and crashed into a concrete freeway rail, police said. One of the pursuing police cars spun out and also hit the rail.
The driver of the stolen car ran from the crash, but police followed his trail with police dogs and arrested a suspect about an hour later.
The officer involved in the crash was taken to UCSD Medical Center for treatment of minor injuries.