This is an archived article and the information in the article may be outdated. Please look at the time stamp on the story to see when it was last updated.
SAN DIEGO — A San Diego police officer facing criminal charges for allegedly groping and illegally detaining women resigned from his law enforcement job today.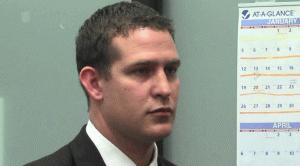 As of late afternoon, Christopher Hays, 30, "no longer works for the San Diego Police Department," SDPD public-affairs Lt. Kevin Mayer said. "At this time, this is the only statement the department will be making regarding this issue."
On Tuesday, Hays pleaded not guilty to a pair of felony false imprisonment counts and three misdemeanor sexual battery allegations. He faces up to three years and eight months in prison if convicted.
Following Hays' arraignment, defense attorney Kerry Armstrong told reporters his client's decision to resign was by no means an indication that the defendant had "done anything wrong." Armstrong said.
"He's extremely upset with the police department for not backing him in this case, and it's really hurt him," the lawyer said. "He's very upset about it, and he thinks that his career in law enforcement is over because of these allegations."
Hays, a former Marine and married father of two, served with the agency for four years before being arrested 10 days ago. His father-in-law is Assistant San Diego police Chief Mark Jones.
The charges against the ex-patrolman, who is free on $130,000 bail, involve four women he allegedly victimized between October and December of last year, according to District Attorney Bonnie Dumanis. Several of them claim that he groped them during searches, and one told investigators he forced her to perform a sex act in the back of his patrol car.
Three other women also have come forward and accused Hays of similar illegal acts. Those allegations remain under review, Dumanis said.
A preliminary hearing in the case is scheduled for April 22.