This is an archived article and the information in the article may be outdated. Please look at the time stamp on the story to see when it was last updated.
SAN DIEGO – The off-duty deputy injured in a shooting in the Gaslamp Quarter overnight has worked for the San Diego County Sheriff's Department for 11 years.
Jason Philpot is expected to recover from his injuries, according to Sheriff's spokesman Sammy Castañon. The deputy works in the Sheriff's emergency services division.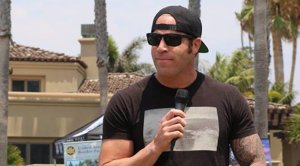 "Sheriff Bill Gore, along with friends and family, were with Jason in the hospital shortly after the incident.  The Sheriff is grateful to the San Diego Police Department and all of the medical personnel who are providing Jason with the best possible care… Our thoughts and prayers are with Deputy Philpot and his family as they recover from this frightening event."
San Diego police are leading the investigation in the Gaslamp Quarter shooting.
Philpot and a bystander suffered non-life-threatening gunshot wounds early Monday during a scuffle with an unidentified assailant near Petco Park, authorities reported.
Philpot was walking with a group of people, including two off-duty Escondido police officers, when a long-haired man armed with a pistol confronted them in the 500 block of Island Avenue in the Gaslamp Quarter about 1:15 a.m., according to San Diego police.
The deputy tried in vain to wrestle away the weapon, and during the struggle it repeatedly discharged, wounding him three times in the shoulder, Officer John Buttle said. A man walking nearby was injured in the arm by an apparent stray round.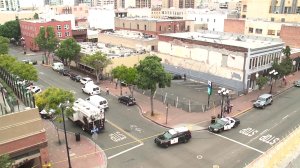 Following the shooting, the assailant -- described as a roughly 5-foot- 10-inch, 165-pound black man in his 30s with shoulder-length dreadlocks and wearing black shorts and a long-sleeve shirt -- fled to the south and east. He remained at large Monday afternoon.
Medics took Philpot to UCSD Medical Center in Hillcrest. The other victim drove himself to a hospital, SDPD Lt. Ernesto Servin said.
What prompted the violence was not immediately clear.