This is an archived article and the information in the article may be outdated. Please look at the time stamp on the story to see when it was last updated.
OCEANSIDE, Calif. – A retired woman, who's on a fixed income and lives in a deteriorating mobile home, claimed her $1,079,602 Powerball winnings Friday California Lottery District Office, according to lottery officials.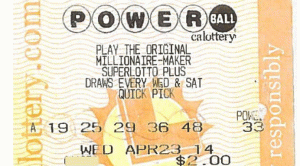 Tessie Pavia's ticket included the numbers 29, 48, 36, 19, and 25, but it did not match the Powerball number 12. She told lottery officials that she doesn't mind.
"I think I would have died if the bonus one was there," said Pavia, adding that winning the lottery wasn't luck, it "a blessing from the Lord."
The 77-year-old grandmother's home has a sinking floor, leaking roof and termite damage and her children have been trying to help, but haven't been able to afford it either.
"For the rest of my life, I don't have to worry. I don't have to be a burden to my family," Pavia said.
She plans on helping out her family and contributing to her church.
The ticket was purchased at Mission Marketplace located at 3772 Mission Avenue in Oceanside. The retailer received a bonus of $5,398 for selling the winning ticket.
While she's careful to note that it doesn't always come in the form of a lottery win, Pavia said all of this is proof that "prayers do get answered."
Someone in Florida picked all the right numbers to win $150 million.