This is an archived article and the information in the article may be outdated. Please look at the time stamp on the story to see when it was last updated.
OCEANSIDE, Calif. — The wife of a Camp Pendleton Marine received a letter from her homeowner association earlier this week instructing her to remove an American flag from outside their home.
UPDATE: HOA on flag removal: We honor the military and our colors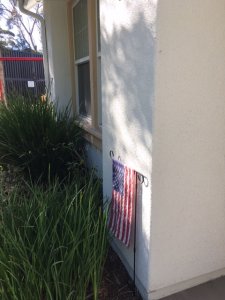 Heather Valenti and her husband Steven moved to Oceanside in April after he was transferred from a military base in Virginia. Valenti placed an American flag outside their condo, in part, to honor her spouse, who is deployed.
The letter stated she must remove the flag because it's located in a common landscaping area.
It read in part:
"In keeping with good management practices, the following requires your immediate attention: During a recent property inspection a flag was noted in the Common Area landscaping at your unit, which is a violation of the Association CC&R's. Page 6 of the Rules and Regulations states: 'No property may be left or stored in the Common Area outside any residence.' Please remove the flag from the Common Area landscaping immediately. Failure to comply will result in further action by the Board of Directors."
"With my husband overseas, this is important to us. We're American. It's not offensive to anybody. It's not even doing anything," Valenti said.
She questioned why the HOA hasn't done anything about other neighbors who also display items, such as security alarm signs and a flag with an image of a pineapple, in common areas.
"I just feel like I'm being targeted," Valenti said. "There are other people in this community that have other things up in the same exact spot and I haven't seen them taken down; no consequences with that."
"I don't want to be fined so if I do have to take it down, I would like to have everybody take down their stuff for me to take it down as well," she added.
Patrick Campbell, the president of Curtis Management Company, responded by email Wednesday to FOX 5's request for comment on Valenti's concerns. He said the issue had been resolved when Valenti moved the flag from a planter in the common area to her own potted plant several feet away.
"We at Curtis Management Company are Pro America and totally support all of our men and women fighting overseas for our freedom and we support the displaying of the American Flag to all that wish to fly it.," Campbell wrote. "The HOA Board of Directors sincerely apologizes to anyone that was offended concerning this incident."