This is an archived article and the information in the article may be outdated. Please look at the time stamp on the story to see when it was last updated.
OCEANSIDE, Calif. – An Oceanside man continued to recover after spending eight months in the hospital for contracting a flesh-eating bacteria.
In September, Tony Carpenter, 47, began experiencing painful rashes and flu like symptoms. He was given antibiotics, which he says only made things worse.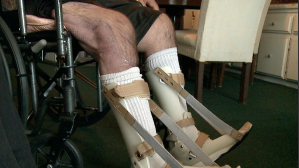 "That`s when I started feeling sick like flu symptoms. Then, I started getting blisters on my foot – the size of a rock," said Carpenter.
Carpenter's wife Rita rushed him to Tri-City Medical Center where he was told his kidneys were starting to fail.
His body had gone into septic shock and he immediately fell into a coma for several weeks.
"He nearly died every day for about those two weeks," said Rita Carpenter. "We have been married 28 years and we have a 14-year-old son. I cannot tell you how it makes me feel."
Part of Carpenter's left foot was amputated while he was in a coma.
Doctors diagnosed Carpenter with "necrotizing fasciitis," a flesh-eating bacteria. It's still unclear how Tony got infected.
"I don't go to the beach, I don't hike. My son thinks I got it in the pool. It could have been as easy as a mosquito bite," said Carpenter.
He spent two weeks at Tri-City before he was transferred to US San Diego Medical Center where he spent the past eight months before returning home in June.
Moving forward, Carpenter will require additional physical therapy, dialysis and a kidney transplant.
He hopes someday he can go back work and live life as usual.