This is an archived article and the information in the article may be outdated. Please look at the time stamp on the story to see when it was last updated.
OCEANSIDE, Calif. – An Oceanside man convicted of murdering his girlfriend nearly 20 years ago has been exonerated and new arrests were made in the case, authorities announced Monday.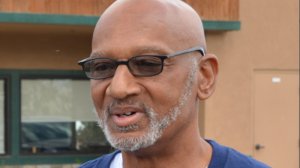 Riverside District Attorney Mike Hestrin announced the arrests of two men, Googie Harris and Joaquin Leal, accused of the 1998 killing Terry Cheek of San Diego County.
A jury found Horace Roberts guilty of second-degree murder in 1999 — after Cheek's body was found strangled near Corona Lake in Riverside County.
At the time, investigators collected DNA evidence from the crime scene, but it wasn't tested until several years later, when the San Diego Innocence Project got involved.
The DNA from fingernails and a blood stain were tested and did not match Roberts, resulting in his exoneration, according to the Innocence Project.
"We've walked, this will be the  29th person from the California Innocence Project, and it's always hard to look at them and say they are lucky, but they are lucky… in the sense of the evidence existed that could prove their innocence," said Justin Brooks Director of the Innocence Project. 
"What happened to Mr. Roberts was an absolute tragedy and a travesty," said Michael Hestrin the Riverside County District Attorney.
Hestrin said Monday that the DNA results matched Harris and Leal. Harris was Cheek's estranged husband and Leal, who is a registered sex offender, was Harris' nephew.
The pair were taken into custody Friday and will appear in court Tuesday.
Roberts was released from prison and allowed to return to his family in South Carolina.