This is an archived article and the information in the article may be outdated. Please look at the time stamp on the story to see when it was last updated.
SAN DIEGO — An Oceanside couple are headed to prison for keeping an underage relative as a sex slave, housekeeper, baby sitter and prostitute.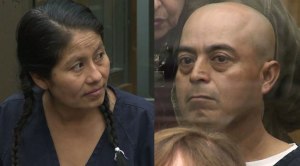 Inez Martinez Garcia, 44, was sentenced Monday to 20 years in prison, and her husband, Marcial Garcia Hernandez, 45, to 23 years to life. Each had pleaded guilty to multiple counts of abuse.
The two were accused of forcing the girl to clean and cook, take care of the couple's three children and have sex with Hernandez and with other men for money.
When the girl refused, she was beaten and forced to eat hot peppers, according to testimony during the court case.
The couple helped their niece, then 12, enter the U.S. illegally after promising her parents that they would care for her and make sure she attended school.
Instead they abused her and kept her a captive for more than 18 months, according to prosecutors.
She returned to Mexico but came back to the U.S. and assisted in the prosecution.
Read more of the story at latimes.com.