This is an archived article and the information in the article may be outdated. Please look at the time stamp on the story to see when it was last updated.
SAN DIEGO — Residents who frequent a popular park in Ocean Beach are outraged after hazardous materials have been dumped illegally.
Although the mess that was left at two recycling dumpsters in Robb Field has been cleaned up, locals hope photos will lead code enforcement officers to the illegal dumpers.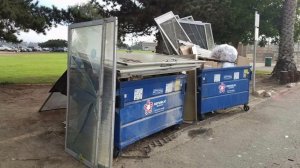 Eric Jackson said he has been visiting the park for about 50 years.
"When I first came to Robb Field there was nothing but sand dunes over on this side. I've been playing here, my kids played here and they're all grown up but maybe someday my grandkids will play here," Jackson said.
He said what he saw Sunday morning was offensive.
"I came out of the handball courts Sunday morning and I was getting in my car and I noticed a huge pile of sliding glass doors, and screen doors and broken glass," Jackson said. "It caught my eye right away. I was offended by it."
Jackson said there was a soccer tournament going on and his first concern was the safety of the children.
"Kid could have picked up anyone of those long pieces of jagged broken glass and been lacerated severely. It was old plate glass. It wasn't safety glass and that stuff when it breaks is really sharp and dangerous," Jackson said.
Jackson, who works in construction, said the sight angered him.
"I know we got to pay fees to dispose of construction debris. The fee would have only been $40 to get rid of this. Somebody who is too lazy, too cheap to drive up to Kearny Mesa to the Miramar landfill and dump it and they left it on us," Jackson said.
Jackson hopes whoever did it will get the message and next time do things differently.
"It's not that hard to meet the rules and go to the dump with your debris or even recycle that material, but dump it in our playground? Please," Jackson said.