This is an archived article and the information in the article may be outdated. Please look at the time stamp on the story to see when it was last updated.
SAN DIEGO -- For the past two months, a pair of Elite Security guards have been riding bikes around Ocean Beach, looking out for anyone causing problems.
Local merchants hired the guards as part of a pilot security program. People who work and live in the area say the patrols are making a big difference.
"They're definitely a nice presence. Everybody knows, in their red shirts, they're coming and they'd better scram," said Eva King, a boutique manager at Lola Luna. "Sleeping, panhandling, wide-open drug use -- just bothering, not the locals, but the traffic that comes in to visit our cute little town."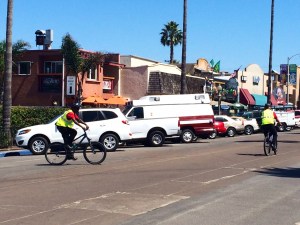 Around 80 merchants are part of the program, donating anywhere from $20 to $200 a month to pay for the patrols.
"They want everybody to respect Ocean Beach. We may be a little quirky, but we don't want people trashing the community," said Denny Knox, executive director of the O.B. Mainstreet Association.
The guards work in different shifts during throughout the day, supporting the police presence that's already stretched thin.
"A lot of them are smaller crimes – but when you put them all together, it's a quality of life issue for the people who live and work here," said Knox.
Knox maintains the program is not meant to target transients -- but those who do harm to the community.
"If you're acting poorly, if you're a bad behaviorist -- we want you to clean up your act or hit the road," said Knox.
The pilot program ends in a couple of weeks. The hope is more merchants will want to donate -- along with a possible grant from the City of San Diego -- to keep the program going.