This is an archived article and the information in the article may be outdated. Please look at the time stamp on the story to see when it was last updated.
SAN DIEGO — Ocean Beach is sick of marshmallows, and locals joined with police Tuesday to plead with Fourth of July revelers to lay down their arms.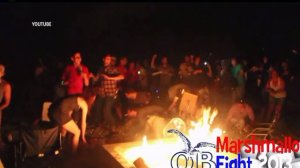 Tossing the puffy confections following the beach town's yearly Independence Day fireworks display has evolved over the years into a frenzy of flying candy that litters the shoreline and turns nearby streets and sidewalks into a gluey mess.
Last year, a child and a senior citizen were injured, local businesses were damaged and more than 2,000 pounds of trash were left behind, according to the Ocean Beach Town Council.
"We're hoping not to have to write any tickets and get that voluntary compliance," SDPD Capt. Joe Ramos said during a late-morning briefing at the corner of Newport Avenue and Abbott Street, the site of a veterans memorial plaza that has would up stained by melted marshmallows each July.
Representatives of some businesses in the coastal town have already signed a "Mallow Out" pledge on the OBTC's website, promising not to sell marshmallows on or around the holiday or promote the snack war.
The madcap food fight started out as a friendly rivalry between two families, then grew into a "violent altercation" that has caused thousands of dollars in damages, according to the council.
Last year's installment was particularly out of control, OBTC member Dave Cieslak told 10News.
"There were people throwing flaming marshmallows, frozen marshmallows," he said.
The pandemonium also has caused traffic tie-ups, left cleanup equipment damaged and brought negative attention to the neighborhood, according to Cieslak.
Last September, the council passed a resolution calling for an end to the sticky tradition. It also urged police to enforce littering and vandalism laws on the Fourth of July and to cite those who throw marshmallows — which the group deemed "potentially harmful objects" — in public places.