This is an archived article and the information in the article may be outdated. Please look at the time stamp on the story to see when it was last updated.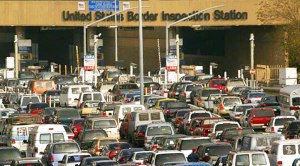 SAN YSIDRO, Calif. — President Barack Obama's budget request released Wednesday includes $226 million to fund expansion projects at the San Ysidro Port of Entry, according to three members of the local congressional delegation.
Rep. Juan Vargas, D-San Diego, said the projects are critical to the region's economic growth. "The completion of this project will facilitate the legitimate and efficient movement of people and goods at our port of entry, create jobs and promote cross-cultural partnerships," Vargas said. "Investing in our nation's infrastructure is imperative for a safer and more prosperous border region."
Colleagues Susan Davis and Scott Peters, both San Diego Democrats, said a larger border crossing would cut wait times and increase economic activity.
The San Ysidro border crossing is the busiest in the world, with more than 50,000 vehicles and around 25,000 pedestrians entering the U.S. daily.
The two countries agreed to expand the port of entry in 2011. While Mexico has finished its side, the U.S. has not because of budget cuts. The president has proposed the spending, but it still needs to be appropriated by Congress.
While discussing issues surrounding immigration reform San Diego officials have consistently said the inefficient border crossing is a hindrance to commercial activity in the region.
On Tuesday the San Diego City Council passed a resolution supporting comprehensive immigration reform. It said, in part, "the city supports and immigration reform should include, an efficient and safe border including added federal investment in infrastructure and technology at our ports of entry, as well as adequate staffing, to keep pace with expanding bilateral trade and population growth of the border region."