This is an archived article and the information in the article may be outdated. Please look at the time stamp on the story to see when it was last updated.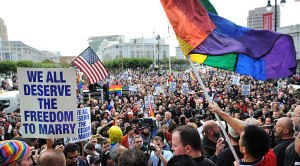 WASHINGTON (CNN) — The Obama administration has formally expressed its support of same sex marriage in California.
It said in a legal brief on Thursday that gay and lesbian couples there have the same "equal protection" rights to wed, and that voters in the state were not empowered to ban it by passing Proposition 8, according to an administration official.
But the administration specifically refused to argue that the constitutional right should be extended to the 41 states that currently define marriage as between one man and one woman.
An appeal in the so-called Proposition 8 case will be formally filed later on Thursday with the U.S. Supreme Court, which will hear the issue in March.
That case and another appeal over the federal Defense of Marriage Act will produce blockbuster rulings from the justices in coming months.