This is an archived article and the information in the article may be outdated. Please look at the time stamp on the story to see when it was last updated.
WASHINGTON – President Obama will nominate John F. Kerry, the five-term senator from Massachusetts, to replace Hillary Rodham Clinton as secretary of State, White House sources confirmed Friday.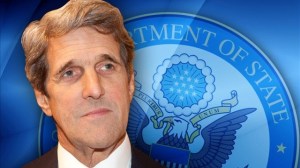 He's choosing a longtime political ally who shares much of his foreign policy worldview and is likely to sail through confirmation hearings.
Obama settled on the 2004 Democratic presidential nominee shortly after the wrenching withdrawal of Susan Rice, his envoy to the United Nations, as the top candidate for the post. He delayed the announcement to avoid interfering with national mourning over the mass slaying at an elementary school in Newtown, Conn.
Kerry, 69, has chaired the Senate Foreign Relatons Committee since 2009. His selection gives the White House a veteran foreign policy hand who has demonstrated his willingness to work with Obama's inner circle of advisors over the last four years.
The Cabinet position will give Kerry a decorated Vietnam veteran who later helped lead veterans opposed to the war, a career-capping assignment that he has long sought.