This is an archived article and the information in the article may be outdated. Please look at the time stamp on the story to see when it was last updated.
ORANGE, Calif. — Orange County sheriff's officials on Tuesday identified the suspect in series of fatal shootings and carjackings as Ali Syed, a 20-year-old community college student with no criminal record.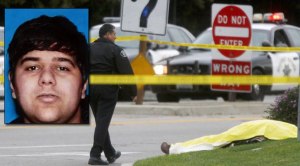 Authorities don't have a motive for the shootings, which began with the slaying of a woman at Syed's  south Orange County home, spread north in a series of random and deadly carjackings, and ended with his suicide in the city of Orange.
Syed was described as an unemployed man who was taking a class at Saddleback College. He had no criminal record and was living with his parents on Red Leaf Lane in Ladera Ranch, Amormino said.
Deputies were called to their home about 4:45 a.m. after his parents reported a shooting, Amormino said. Responding deputies found a woman dead inside who had been shot multiple times.
The relationship between the woman and Syed was not yet known, Amormino said, although she was not related to the suspect. The woman has not yet been identified.
Family members, including children, were at the home at the time of the shooting, Amormino said, but no other injuries were reported.
Syed fled the area and headed toward Tustin, where Amormino said "multiple incidents" occurred. He attempted to carjack at least two vehicles in Tustin, resulting in at least two more deaths, said Lt. Paul Garaven, a spokesman for the Tustin Police Department.
Ivestigators said Syed shot and killed himself after officers located him in a stolen vehicle, followed him into the city of Orange and tried to pull him over.