This is an archived article and the information in the article may be outdated. Please look at the time stamp on the story to see when it was last updated.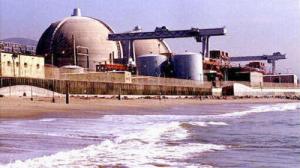 SAN ONOFRE, Calif. — Fifty sirens will sound in the communities around the San Onofre Nuclear Generating Station in North County Wednesday as part of an annual test, plant operators announced Tuesday.
The plant sits just north of Camp Pendleton, near the San Diego-Orange county line. It has been shuttered since January due to equipment problems, but the annual test will go on as usual, according to Southern California Edison, the plant's operator.
"Protecting the health and safety of workers and the public is our most important responsibility," said Edison's senior vice president and Chief Nuclear Officer Pete Dietrich. "In a real emergency the siren system would alert residents to turn on their radio or TV for emergency response information from public officials."
Wednesday's test is scheduled from 10 a.m. to noon. Each of the 50 sirens will sound for three minutes during the two-hour span, according to Edison. The utility described the sound of the sirens as a steady tone noticeably different than those sirens used by police and fire personnel.
The nuclear plant's two reactors have been shut down since January, one for planned maintenance and the other after a leak was discovered in a steam generator tube. A subsequent investigation found unusual wear in many of the tubes in both shuttered reactors.
Edison is currently seeking permission from the Nuclear Regulatory Commission to restart one of its shuttered reactors on a trial basis. A group called Friends of the Earth is opposed to the restart plan, questioning whether the plant is safe for the environment and residents living in its vicinity.
On Sunday, a hydrogen leak was detected in a pipe in a non-nuclear area of the plant but it was small and presented no health risk to employees or the public, according to Edison.
Though Edison is the plant's main operator, San Diego Gas & Electric owns a 20 percent share and receives one-fifth of its power.