This is an archived article and the information in the article may be outdated. Please look at the time stamp on the story to see when it was last updated.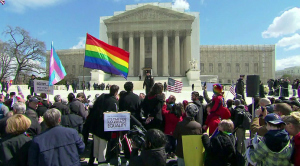 WASHINGTON — No ruling was issued by the Supreme court on Monday on California's Proposition 8, a voter-approved ban on same-sex marriage.
The court released five rulings on Monday, but did not take up Prop 8 or the federal Defense of Marriage Act (DOMA).
The court added Tuesday as an extra opinion-release day. Six cases remained undecided.
A ruling on Prop 8 was expected by Friday, when the court goes on recces for the summer.
If the justices uphold Prop 8, the ban on same-sex marriage in California would remain in place.
It would also send a strong message to about three dozen other states across the country that their bans on same-sex marriage would also be found constitutional.
If the ban is upheld, it would likely trigger a political campaign in California to put the issue back on the ballot, according to experts.
Voters approved Prop 8 back in 2008, but recent polls suggest that the majority of California voters now support same-sex marriage.
If the court strikes down Prop 8, gay marriages could begin in California by mid-July, officials said.
The Supreme Court was also expected to rule on the Defense of Marriage Act, which denies federal benefits to legally married same-sex couples.
Gay marriage is legal in 12 states, as well as the District of Columbia.