This is an archived article and the information in the article may be outdated. Please look at the time stamp on the story to see when it was last updated.
SAN DIEGO — A 20-year-old boater killed along with a passenger in a collision with another vessel last month on El Capitan Reservoir was traveling the wrong way in a designated travel lane at the time of the accident, authorities said Wednesday.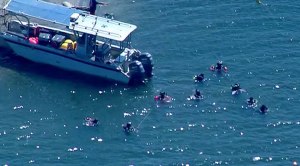 Russell Mendez, was taking a northbound heading in an area marked by buoys for southbound vessel traffic when his Bayliner boat crashed into a Nitro- brand vessel in an area known as "the Narrows" shortly before 7:30 p.m. July 31, according to San Diego police.
Emergency personnel immediately found the body of Mendez's passenger, 21- year-old Jeffrey Ingram. Mendez remained missing until the following afternoon, when lifeguard divers found his body under about 35 feet of water.
The other boater, Edward Davies, 78, and a passenger in his vessel were treated at a hospital for minor injuries.
Investigators have determined that alcohol was not a factor in the accident, San Diego Police Department Capt. Jerry Hara said.
No criminal charges are pending in the case, though the results of the police investigation will be submitted to the District Attorney's Office for a final review, Hara said.