This is an archived article and the information in the article may be outdated. Please look at the time stamp on the story to see when it was last updated.
A career daredevil in a T-shirt and jeans completed a 1,400-foot long high-wire walk across a 1,500-foot tall gorge near the Grand Canyon on Sunday evening in a feat broadcast with a 10-second delay — just in case.
Nik Wallenda's vertiginous feat came little more than a year after he crossed Niagara Falls from the U.S. to Canada on a 2-inch-thick cable, covering a distance of about 1,800 feet at a height of about 180 feet. But on that crossing, he wore a harness — unlike Sunday.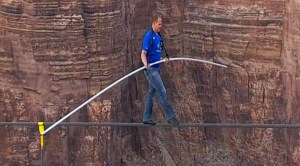 "Literally, when he finished [Niagara Falls], when he was asked at the end of it what he wanted to do next, he said, 'I want to do the Grand Canyon,'" Wallenda's manager, Winston Simone, told one of Discovery's TV personalities before Sunday's walk.
Wallenda, 34, couldn't get permission from the U.S. government to traverse the Grand Canyon proper — which spans anywhere from 10 to 18 miles. So he walked above a stretch of the Little Colorado River Gorge on Navajo Nation land, prompting some gibes about Discovery's breathless promotion of the feat.
"Mr. Wallenda needs to buy a GPS or somebody give this guy a map," Milton Tso, president of the Cameron community on the Navajo Nation, told the Associated Press. "He's not walking across the Grand Canyon. He's walking across the Little Colorado River Gorge on the Navajo Nation. It's misleading and false advertising."
The walk's promoters bragged that there was no electricity, no running water and no paved roads around the site, prompting organizers to build a road to the walk site — and then promise to carefully tear everything down afterward without damaging the Navajo Nation's environs. Navajo protesters near the walk site held signs that read, "GO AWAY WALLENDA!"  and "WE DO NOT SUPPORT THE HIGH WIRE ACT."
In the hour-and-a-half broadcast leading up to the walk across the 8.5-ton cable, Discovery's promoters sometimes hyped the dangerousness of Wallenda's no-tether, no-net feat more than he did. (At one point, the network showed footage of Wallenda's great-grandfather, Karl Wallenda, falling to his death from a high wire in Puerto Rico in 1978.)