This is an archived article and the information in the article may be outdated. Please look at the time stamp on the story to see when it was last updated.
SAN DIEGO – Marshall Faulk was among several retired players and an executive suspended by the NFL Network pending an investigation into sexual harassment allegations, it was reported Monday.
The NFL Network suspended Faulk, Ike Taylor and Heath Evans from their duties at the network, according to Sports Illustrated Now.
A complaint by former employee Jami Cantor alleged former executive producer Eric Weinberger, Faulk, Taylor, Evans, Warren Sapp, and Donovan McNabb allegedly groped and made sexually explicit comments to her, Bloomberg reported.
The allegations are part of a lawsuit against NFL Enterprises in Los Angeles Superior Court, Bloomberg stated.
Cantor was a wardrobe stylist at the NFL Network and said former executive producer Eric Weinberger sent "several nude pictures of himself and sexually explicit texts," according to Bloomberg.
"She said she was also sexually harassed by on-air talent. Faulk, who's an NFL Network analyst, would ask Cantor 'deeply personal and invasive questions' about her sex life and fondled her breasts and groped her behind, according to the complaint," Bloomberg stated.
Cantor filed her case in October, claiming wrongful termination.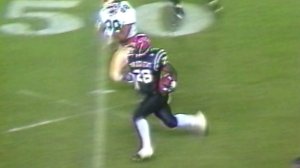 Prior to the suspension, Faulk was a pro football analyst for NFL Total Access, Thursday Night Football and NFL GameDay Morning on the NFL Network.
Faulk played college football at San Diego State University and was a two-time consensus All-American. He was picked up by the Indianapolis Colts in the 1994 NFL Draft and later played for the St. Louis Rams.
Faulk was inducted into the Pro Football Hall of Fame in 2011.