This is an archived article and the information in the article may be outdated. Please look at the time stamp on the story to see when it was last updated.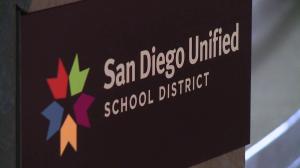 SAN DIEGO — The newest member of the San Diego Unified School District Board of Education was sworn in Monday night, along with two members who were re-elected last month.
Marne Foster, who was elected to represent the city's southeastern region, took the oath along with board President John Lee Evans, whose sub-district includes Clairemont and Mira Mesa and Richard Barrera, who represents south and central neighborhoods.
Foster, a community college teacher, administrator and mother of four, defeated retired university administrator William Ponder to replace Shelia Jackson, who did not seek re-election.
"I give honor knowing that the responsibility of making decisions, monitoring policies and being accountable to a district and community charged with preparing 132,000-plus children for the 21st century and globally," Foster said after taking the oath administered by Superior Court Judge Randa Trapp.
"It's much larger than any one board member, and yet San Diego Unified School District voters decided to put a mom on the board."
Barrera ran unopposed. He was sworn in by a group of students, including his son Jessie Barrera who attends Mt. Everest Academy.
"We have to recognize that our school district is more than another public agency," Barrera said. "Our school district has to be an organizer that builds community within our city.
"Our schools themselves have got to be communities, where our students feel that they're not going to fall through the cracks."
Evans defeated university instructor Mark Powell, who collected the most votes in the primary election.
Mayor Bob Filner, a member of the board from 1979 to 1983, swore Evans in.
"What we've done in the last few years is made progress, we've made incremental gains in almost every area," Evans said. "What we want to do in the next four years is to really accelerate those gains."
Following the swearing in ceremony, the board elected officers.
Evans was unanimously picked for another year as president and Kevin Beiser was chosen as vice president. Scott Barnett was the previous vice president.
Evans said he was happy with the composition of the board.
"We have five people who are firmly dedicated to improving the lives of students here in San Diego and their education, and the good will of the entire community," Evans said.