This is an archived article and the information in the article may be outdated. Please look at the time stamp on the story to see when it was last updated.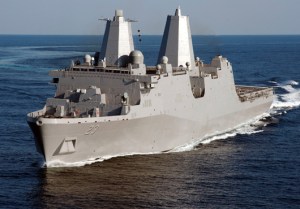 SAN DIEGO — The U.S. Navy's newest warship arrived in its homeport of San Diego for the first time Wednesday.
The $1.3 billion, 864-foot USS Anchorage took about two years to build and began sailing toward San Diego from its shipbuilding site in Avondale, La., on Oct. 30, according to the Naval Surface Forces public affairs office.
The route to San Diego took the ship through the Panama Canal and along the coast of Mexico, with its first liberty port call in Manzanillo.
"Sailing Anchorage to San Diego culminates those years of hard work by both her shipbuilders and her crew," said Capt. Brian Quin, the warship's skipper. "We are excited to be reunited with our families and look forward to continuing the process of preparing Anchorage for her maiden deployment."
The Anchorage, a San Antonio class amphibious transport dock, is crewed by 32 officers and 364 enlisted personnel but is capable of carrying up to 800 troops. It will be used to transport Marines and their helicopters, weapons and other equipment primarily to the Asian Pacific region.
The Anchorage is scheduled to be commissioned in May in its namesake city. It is the second Navy ship named after Anchorage, Alaska. The first, a dock landing ship, was decommissioned in 2003 after 34 years of service.
The Anchorage is the fourth new Navy ship to arrive in San Diego this year. The other three are the amphibious assault ship San Diego and the littoral combat ships Independence and Fort Worth.