This is an archived article and the information in the article may be outdated. Please look at the time stamp on the story to see when it was last updated.
SAN DIEGO – The newly released study analyzed the economic impact the Petco Park ballpark has made since opening in San Diego's East Village 10 years ago.
The National University System Institute for Policy Research released results Tuesday of the two-month study looking at several economic factors since the Petco Park opened on April 8, 2004.
Since the park opened in the East Village neighborhood, the downtown area has added around 14,000 residential units and welcomed nearly 15,000 new residents.
"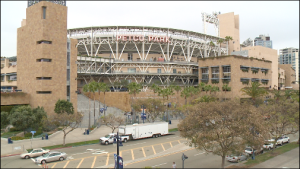 Petco has really made a transformation to downtown's residential community," said Erik Bruvold, NUSIPR president. "It's made it more vibrant, gave it an active street life and encouraged people to move downtown and consider it a residential option."
Bruvold added in a region that has a chronic housing shortage and an ambivalent attitude toward growth, this transformation has region-wide implications.
In other respects the ballpark's promise still has yet to be fulfilled. While there are developments moving forward that offer the chance to add to downtown's employment base, the region still has been unable to accelerate job growth downtown or to diversify the economy in the 92101 zip code.
"We just haven't seen that many new businesses going to downtown," said Bruvold.
Employment in downtown remains unchanged since 2004 when 64,689 individuals worked downtown. In 2011, the latest year for accurate employment numbers, 64,718 worked in downtown San Diego.
The study found Petco Park's impact hasn't brought as many jobs or growth as expected, Bruvold said there's no indication if a new Chargers stadium would produce different results.
"It's not clear that football stadiums have the same transformative effect, that's because you're only playing there about 10 days a year," said Bruvold.
When it comes to the Padres, the study found Petco's opening did not radically transform San Diego's relationship to baseball. The Padres inaugural season saw an initial spike of interest with 3 million in attendance for the 2004 season. Since then, there has been a decline in average attendance levels of about 2 million.
Modest ballpark attendance numbers translated into modest economic impacts, with NUSIPR estimating that Petco had a net regional economic impact of a little more than $44 million in 2013.
"The days before Petco were horrible," said Kris Michell, President/CEO of Downtown San Diego Partnership. "It was 23 blocks of chain link fence, razor wire on top, syringes on the street. I remember those images like they were yesterday."
Michell said despite low jobs and economic growth, the ballpark is a major homerun for San Diego.
"It's not the ballpark, but it's the catalyst that the ballpark was for all the development that went around there and all the small businesses that opened up," said Michell. "It has been a huge success."