This is an archived article and the information in the article may be outdated. Please look at the time stamp on the story to see when it was last updated.
SAN YSIDRO, Calif. — New Secretary of Homeland Security John Kelly toured the San Ysidro Port of Entry Friday, continuing a tour of the international border in the southwestern U.S.
READ MORE: Tunnel discovered in Tijuana near U.S. border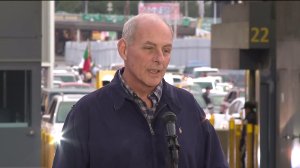 Kelly met with department employees and state and local officials, toured security operations and discussed the administration's efforts to improve border security.
In a news conference Friday, Kelly touched on President Trump's travel ban, saying the country needed a stronger vetting process.
Kelly promised to work with San Diego area law enforcement officials and pledged not to make any "Draconian moves until I fully understand what a given locale might be doing or not doing."
Kelly also met with San Diego Police Chief Shelley Zimmerman, who told FOX 5 the meeting was "productive" and "it's no mistake we're one of the safest border towns in the country."
In response to a question from Zimmerman, Kelly said he didn't "have a clue" about how to define sanctuary city.
"It's inconceivable to me that people who are sworn to protect their communities would not want someone, anyone to remove criminals from their communities and send them somewhere else," said Kelly. "I'm stunned when people say, well, we're not going to cooperate with you even in the event of convicted criminals."
Kelly said, "it would be hard for me to justify giving grant money to cooperate with removal operations and you were not able to help us with that."
Kelly said the United States has not been "rounding anyone up," after immigration authorities acknowledged arrests of undocumented migrants across the country this week.
"They're not rounding anyone up," Kelly said. "The people that ICE (Immigration and Customs Enforcement) apprehend are people who are illegal, and then some."
Kelly said he went on two "knock and talk" visits to homes before 6 a.m. Friday, during which authorities apparently took into custody three people, including "a particularly bad individual."
He would not go into specifics about the proposed border wall, saying he's focused on strengthening relations with each border city and with Mexico.
The 40-year veteran, who served three tours in Iraq, said during his confirmation hearing that a simple barrier — like the wall that President Donald Trump wants to build — won't be enough to stop the flow of drugs and migrants.
His nomination was confirmed Jan. 20 in an 88-11 Senate vote.
Last week, the retired Marine Corps general visited Rio Grande Valley in Texas. On Thursday, he met with state and local law enforcement officials at the border crossing at Nogales, Arizona, and with Arizona Gov. Doug Ducey.
He spoke with law enforcement officials from Arizona's four border counties about the proposed border wall, a hallmark of Trump's presidential campaign, and sought input on border security, according to the Arizona Republic.
Pima County Sheriff Mark Napier said law enforcement leaders finally had "a receptive ear."
"We talked about the value of technology in some areas and physical structures in others, but there's a lot to be vetted out in that," Napier said. There's a whole lot of distance between an executive action and some political rhetoric and actual policy implementation at the local level."
Pima County's 125-mile-long international border is well known for drug and human trafficking, the Arizona Republic reported.
Santa Cruz County Sheriff Tony Estrada said that a lot was still up in the air regarding the wall , according to the Arizona Republic.
"I think that's still an open question, being that we're unique all along the border from San Diego to Brownsville," Estrada said. "It requires different approaches. In some places, you may not even need a wall."